A Tale of Two Blogs
This week, we worked on writing/blogging skills, blog customization, and community building, as well as doing assignments, daily creates, and weekly summaries. It was also recommended that we pick out an 80's movie to base our creations off of. I chose the movie Footloose and got to work!
Blog Customization
Time to get schwifty! The first thing I did was work on blog customization. And to actually design the site the way I wanted to, I needed a Word Press theme with more free customization options. The original theme I chose was Astra, and Astra was not doing me any favors in terms of what it allowed me to change (i.e. the header and typography). I also originally went with a dark BG because they can be pretty sleek, but only if you have full control over the typography. Which I didn't. It was too hard to read.

I decided the best thing to do would be to start over with a different theme, so after some research, I decided on the theme OceanWP. There was a bit of a learning curve with OceanWP, but it had a ton of free customization options. (Not full though; I had to do some workarounds). Now that I could actually customize some things, I decided on making my 'STRANGER TALES' header a focal point. I modified some 80's imagery, added custom text and a logo to the cassette tape element, and put my header text over top. I used the Google Font 'Megrim' and added a soft glow for a neon effect.

For the body of my blog, I played around with the color, size, and spacing of the text. I used the font 'Audiowide' for the sub-headers since it has a nice retro feel. I added categories, tags, and hyperlinks to all my posts. I also worked on formatting the posts themselves- a post that has nice layout, headings/sub-headings, imagery, and word choice is not only more readable, it's more enjoyable to read!

(I kept my 80's Rick though after modifying his text and colors to match my site identity. He lives near the bottom of my blog. Gotta keep things hip and fresh with the young kids).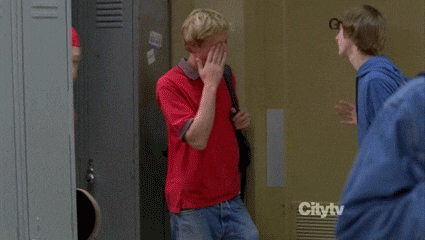 It took me a long while to figure out how to embed GIFs into posts from a URL. But now I know how, and knowing is half the battle. ~G.I. Joe.
Original:
Redesign:
Community Building
Next up, Community Building! I surfed the ds106 class blog for some hip 80's content to talk about. I was excited that a classmate had done the one lonely coding assignment in the Assignment Bank, as I had thought about trying it myself. I decided on putting it into the "maybe a different week" category since I couldn't remember any Python from last semester, even though I'm a CPSC major. Yikes! But Yara Saleh took up the challenge and made a program that asked the user to input some numbers and the program would then calculate the slope. I'm no math expert, so I have no idea if the formula is correct (I assume it is), but I tested it out in Python and the programming part of it is right on.

I also enjoyed Hinoiri's GIF project. I share in Hinoiri's love of the Webtoons comic, Lore Olympus, so I was excited to see the mythological story of Eros and Psyche being portrayed in GIF format. The GIF's added a humorous element to it, and after reading Hinoiri's blurb about Eros and Psyche, I could see how the GIF's told the story.

Another of Yara's posts caught my eye this week, and it was an 80's theme event poster. In her post she talks about how she struggles with design, and she wondered how professionals constantly design for a living. I was pretty inspired by her work and write up, so I decided to incorporate it into one of my posts this week.

I know a thing or two about the struggles of design, so I was happy to share a few words of wisdom in my post for others who are struggling. I had a lot of fun mashing up my classmates' work into one design, and the comments I received on it made me feel like I had a positive impact in our little online community.
Comments:
Featured Comment recieved from my post, MASH IT UP! TAKE 2:
Commented on Blue Butterball's Hello World
Commented on Yara Saleh's Too lazy to solve math equations? This program will help!
Commented on Hinoiri's Pricked by the Arrow
Assignment Bank
This was a challenging week for creating. I started off in my element with the visual design project of modifying a movie poster. I was able to discuss an important social issue and I was happy with the overall outcome of the poster.

The next assignment I chose was a bit of a flop however. I originally chose a mashup project from the audio assignment category, but it didn't work out as expected and I had to scrap it. I still wanted to do a mashup though, so I chose to mashup my classmates' work! This assignment turned out better than expected. I not only made a pretty rad design, but it also allowed me to respond on my own blog about a classmate's post.

The last assignment I chose was to do a movie review. I referenced Footloose in my first assignment, so I knew that I wanted to actually go watch the film. I had fun expressing my thoughts in words, images, and GIFs (and the movie was great too)!

(SIDE NOTE: I absolutely needed to add dancing emoticons to my assignment #3 title. The symbols don't appear on every browser/site, but the link will hopefully still work).
Assignment #3
Category: Writing
Featured Image:
Assignment #2
Category: Mashup
Work Created:
Assignment #1
Category: Visual
Work Created:
Daily Creates
I enjoyed doing the daily creates this week! I didn't think that I would be able to find the time to do both assignments and daily creates, but as it turns out, daily creates aren't too different from regular social media posting. It only takes a minute or two to post, and the tasks are simple enough for everyone to do! I think it's a great way to build community, and I can't wait to see what the future daily create prompts will be.
Featured Images: