Jump Back
For this assignment, I had to Write a Movie Review from the writing assignment category. The task for this assignment was to "write a review of a movie. Don't be afraid to use images, GIFs, and clips to support your discussion, but focus on the text. Make an argument about the film, no lame thumbs up nonsense."

Well, since I already made a movie poster by modifying Footloose, it seemed that my choice was pretty clear. I needed to go watch the film! Astonishingly, I had never actually seen Footloose, despite the fact that I have been alive for over three decades. (I have no excuse). I of course knew the premise and the famous song from the movie, and that's usually enough for me to forego watching a movie. (I prefer TV shows because they're episodic and my attention span is short).

Alright! Time to watch-

Wait, nope. It's actually not on Netflix. Or Hulu. Or anywhere. Time to search my house.
Success! I found a DVD copy in the workout room where other such classics reside, such as Body Flex and Disco Sweat. (See my Week 1 Summary for that VHS visual).

Time to get loose! Footloose. Haha, get it? …Moving on.
---
Right from the opening credits, I was on board. The scene with the dancing feet is something that is going to stick in my memory bank. Fun fact: the Footloose song was originally only meant to be played during the bar scene. The producers decided that they wanted to start and end with it as well, so they had tons of dancers perform for them- all dancing to a simple beat that they could then sync with the song during the editing process. And what they ended up with was tons of happy feet!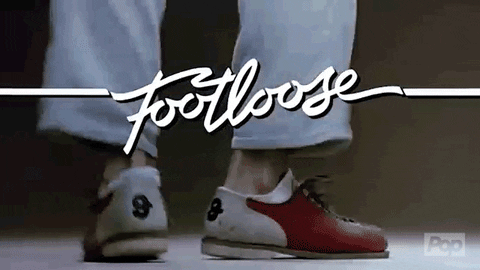 The movie continued to impress; the visuals, choreography, and of course the music really drew me in. There's one scene near the beginning of the movie where everyone is grooving along to 'Dancing in the Sheets' and it's brilliant. The music didn't just come from the song itself; it came from the many different sounds of the drive-in area where all the teens were hanging out. Foot taps and car honks, diner bells and arcade sounds, a cup spinning on a car antennae all flow together and harmonize with the rhythm of the song. And it just works.

Another favorite moment was the part where our big-city kid Ren (Kevin Bacon) is teaching his new friend, Willard (Chris Penn) how to dance. Fun fact: Chris Penn really couldn't dance. The film crew had to use wrestling terms for the actor to catch on. (I can relate- I myself have two left feet). The music was in time to the song, 'Let's Hear it for the Boy,' and the choreography here was also brilliant. This wasn't some big dance number; it was everyday actions performed to a beat. It just showed how even simple gestures can be dance. I especially loved the little scene where Ren and Willard are walking in sync down the school hallway connected by a Walkman headphone cord. This certainly would not have had the same visual impact if the two had been wearing Bluetooth headsets.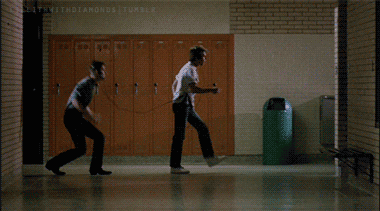 I Thought this was a Party
One of the things that surprised me when watching Footloose was seeing all of these well-known actors appear in the movie. I knew that Kevin Bacon was the star of the film, but I had no idea that John Lithgow played Rev. Shaw Moore- A stern, disapproving member of the town council. Nor did I know that Diane Wiest played Shaw's wife Vi, or that Sarah Jessica Parker played Rusty- one of the friends from the main group of girls. Footloose had a great cast and a great story. But was it just a story?
As it turns out, Footloose is based on the true story of a small town in Oklahoma where dancing had been outlawed! The reverend of Elmore, OK thought that dancing would lead to teen pregnancies, which led to an overall disapproval of dance. Bummer. The teens of Elmore weren't too happy with the dance ban, so they started a pro-dance movement lead by Leonard Coffee and Rex Kennedy (Leonard + Rex = Ren). After some polite debating with the council, the teens were finally able to persuade the town to let them hold a prom. Dancing was still frowned upon in general, but it was a small victory for the juniors and seniors of Elmore.

I think what surprised me the most was the accuracy in which the beginning of the prom was portrayed. All of the teens in the movie were standing around awkwardly, not knowing what to do. I thought, "why aren't they dancing?…like, at all?" I was in disbelief that teens wouldn't just instinctively flock to the dance floor after winning the right to dance. But as it turns out, the teens from our true story had no clue what they were doing either. No one knew how to dance. I think they eventually figured it out though, sans Kevin Bacon to lead the way.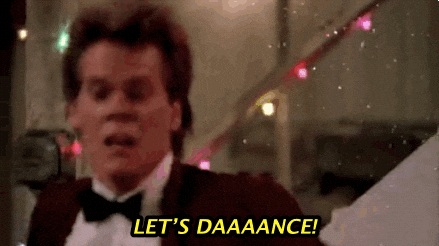 Footloose was the first of its kind in the movie world. The movie's production began before MTV was really a thing. Yet it was a movie that aimed to do what MTV would later aim to do: showcase music. The producers of Footloose had no budget to speak of, only a dream in their heart. They promised singers and songwriters, actors and dancers, and various other pros that if they got on board with the project, it would be worth the gamble. And it was! Footloose was a huge hit and has since become a classic. Not only that, but the movie has inspired a myriad of skits and parodies over the years. An example you say? Well, I'll just leave you with my favorite example of all time, Scarlet Mafia's Gundam Wing Footloose skit from Katsucon 2009. (An event that I attended).
Some reference material:
1) Footloose DVD with commentary
2) 10 Things You Didn't Know About Footloose
3) Oklahoma town inspired original 'Footloose'